Saturday, October 10th | 8:30 AM
The Race to the Summit 35K Team Relay is a team running event that starts in Downtown Mt. Pleasant and finishes at the top of Bundy Hill, the highest point in Isabella County. The course starts on the streets and sidewalks of downtown Mt. Pleasant and slowly transitions to the beautiful country roads northwest of the city.
Runners will form teams with a maximum of 5 runners to run pre-determined distances along the race course ranging from 3-6 miles in length. Each leg of the relay begins and ends in a designated exchange zone where runners will pass the running duties to the next runner on their team.
Teams are encouraged to stick together in a team vehicle when they are not running, encouraging their teammates and other runners along the way and enjoying a beautiful fall morning together. Finally, teams will reunite for the final leg of the relay where they will run the last mile of the course along McNeel Trail to the top of Bundy Hill where they will finish together.
After the race, teams will then make their way back down Bundy Hill where they can enjoy some post-race refreshments and share stories from their adventures on the course.
For those interested in a more family friendly option, there will also be a 1 Mile Run/Walk/Race to the Summit from the entrance of the preserve to the top of Bundy Hill. This course will follow the final mile of the 35K Team Relay Course and will be a great work out for everyone who participates!
Registration for the Race to the Summit is now closed! If you have questions or need to make changes, please e-mail ryan@gracemp.org.
More about the Race for a Reason Race Series
Grace Church has been a host of the Race for a Reason (R4R) series for many years, organizing races in a variety of distances and venues. The R4R series is unique because the race registration fees are all done by suggested donation and 100% the money donated by runners is given to those in need in our community and around the world. Race for a Reason is a great way for runners to come together to do something they love while doing some good in the world. The proceeds for this year's Race to the Summit 35K Relay will benefit those affected the COVID-19 pandemic.
Click Here to Make a Donation! >
Course Description & Maps
The total distance for this race is 35K (22 miles), with the team members running individual legs of varying distances and before coming together as a team to run the final mile to the summit of Bundy Hill. The race is separated into 5 individual legs plus one final team leg:
        Leg 1: 3 miles
        Leg 2: 4 miles
        Leg 3: 5 miles
        Leg 4: 6 miles
        Leg 5: 3 miles
        Final Team Leg: 1 Mile (Bonus!)
Teams are free to assign team members to different legs in whatever order or combination they choose. Runners for each team are free to run multiple legs, but all exchanges must happen in the designated exchange zones at the beginning/end of each leg. Teams may have a maximum of 5 runners. The decision about who will be running each leg of the relay will need to be finalized before registration closes on Monday, October 5th.
 ***Cut Off Time: Please note, there is a 4 hour cut-off time to complete the full 35K distance. Each designated exchange zone will have staggered closing times, which we will share with teams prior to race day. Those not able to complete the total 35K distance in 4 hours are encouraged to join us at Bundy Hill for our 1 mile Race to the Summit.***
1 Mile Race to the Summit Course
Leg 1 is a 3 mile course that is relatively flat and fast. You'll start downtown in front of the Ward Theater and follow Main St. for just a few blocks before turning left on Broadway. From there, you'll head West on Broadway past City Hall, Nelson Park, and Ganiard School before coming to Bradley St. where you'll turn right and head North. After about a half mile, Bradley St. crosses Pickard St. Please be very careful and watch for traffic as you cross Pickard. Once you cross Pickard, Bradley St. becomes Bamber Rd. You'll continue to head North for another mile before crossing River Rd. Again, keep an eye out for traffic. Once you cross River Rd., the road turns to dirt and you're almost there! Just another half mile or so until you reach the first exchange zone.
Leg 2 is a 4 mile course that starts on Bamber Rd. about halfway between River and Baseline. The first half mile is dirt until you come to Baseline Rd. where you will turn left and head West. Baseline is a busy road, but you'll only be on this for a half mile and there is a nice wide shoulder. Please stay to the left as you head toward Lincoln Rd. Once you come to Lincoln Rd, you'll turn right and run about a mile stretch on the pavement there until you get to Jordan. Jordan Rd. will only go left, so you'll make this turn and run another mile on pavement before the road turns to dirt. This is a beautiful stretch of road and you will continue on Jordan until you reach the second exchange zone.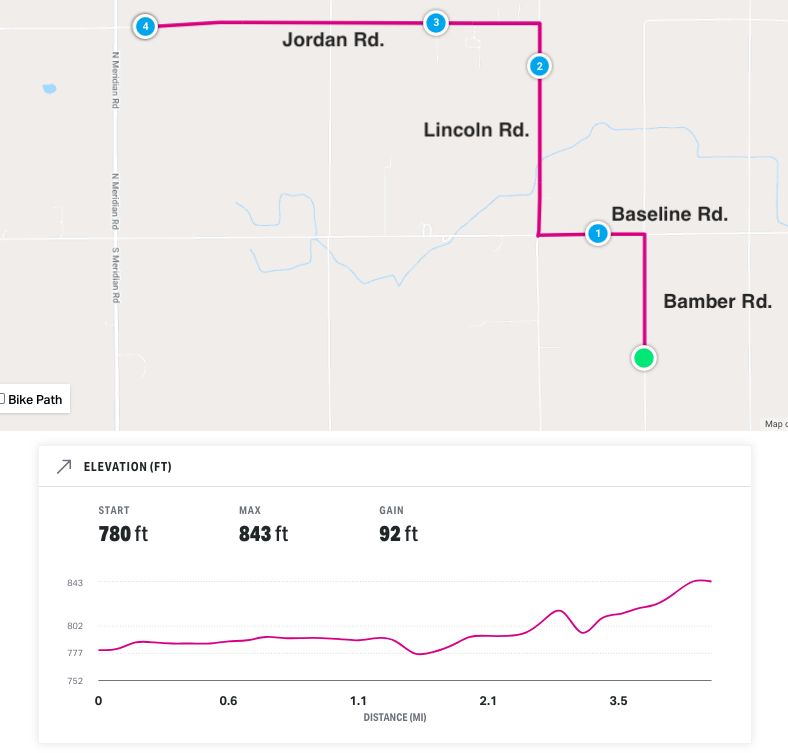 Leg 3 is a 5 mile course and is run exclusively on dirt roads. You'll make the exchange with the runner of Leg 2 just before you cross Meridian. This is a busy road and cars drive fast, so please be very aware as you cross there. You'll continue to head West on Jordan for two miles before turning left on Vandecar, which is a beautiful but hilly(!) stretch of road. You'll be on Vandecar for about 3 miles and it should be a beautiful, peaceful route where you can enjoy some fall colors. Along the way, you'll cross two busy roads (Baseline and River), so keep an eye out for cars at these intersections. Once you cross River Rd. you'll have a nice little uphill section before cresting the hill and coasting to the third exchange zone just before you reach Pickard Rd.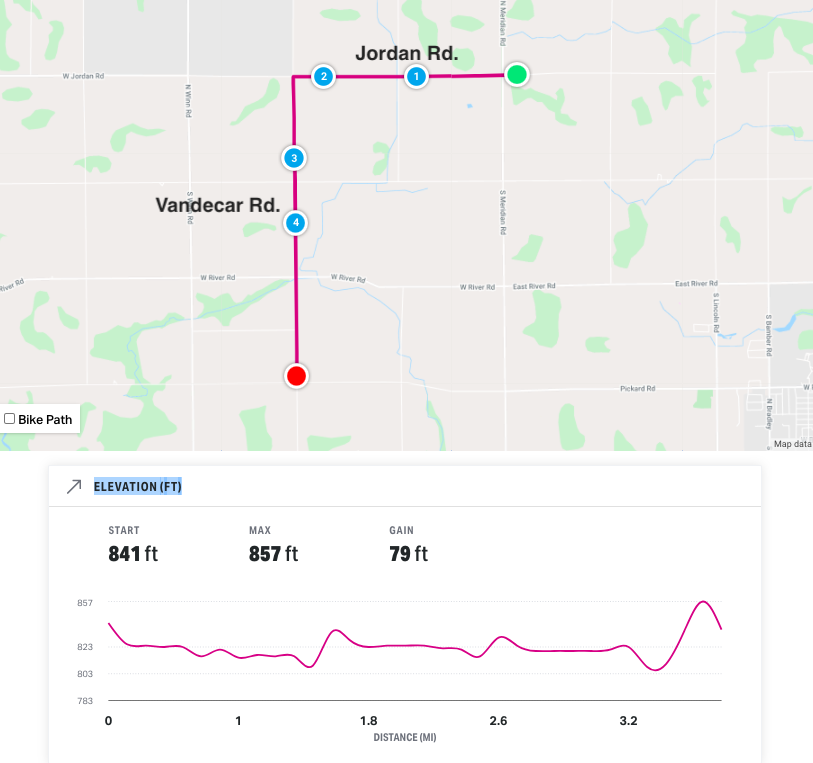 Leg 4 is a long, straight 6 mile course that is specially suited for one of the most experienced runners on your team. The first mile of your run as you approach Winn Rd. will be a little busier in terms of traffic, but once you cross Winn and continue heading West, the road should be much more quiet. The next 4 miles are a beautiful, paved, hilly section of the course. The further West you head on Pickard, the quieter it will be, and it eventually turns to dirt for the last mile. At mile 5 you will cross Coldwater Rd. This tends to be a busy road, so please be mindful as you cross here. This leg of the race has some consistent elevation gain in the first half and then things get a little steeper in the second half. Although the hills won't really subside until about the last half mile of this run, the views are well worth it! You'll meet your final team member at the corner of Pickard and Brinton for the 4th exchange.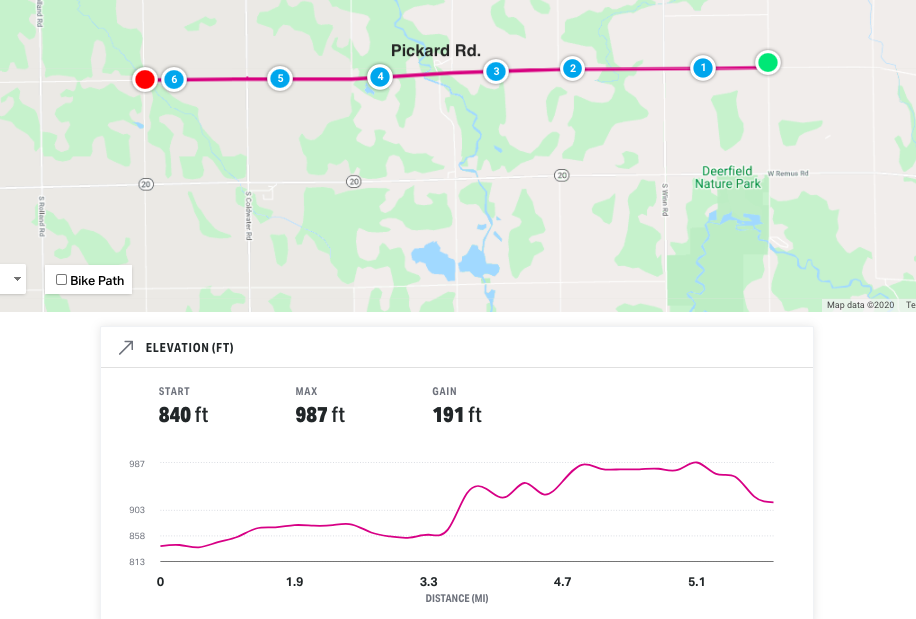 Leg 5 is a 3 mile course that is, in many ways, the big pay off for running all of those miles from the Ward Theater. This is a beautiful, hilly, wooded course that is run exclusively on dirt roads. This leg of the race has the most elevation gain of any of the 5 individual legs, so make sure you're getting in some hill repeats leading up to race day. The further along this 3 mile run you go, the more you will experience the beauty of the land surrounding Bundy Hill. You'll head North for 1 mile on Brinton Rd. before turning left on River Rd., which is the road that Bundy Hill is on. At about the 2 mile mark, you will cross Rolland Rd. Although Rolland is not terribly busy, it is definitely a main road, so please be mindful as you cross there and continue toward Bundy Hill. Once you cross Rolland, you'll have about 1 mile to go before reuniting with your team for the final mile to the summit!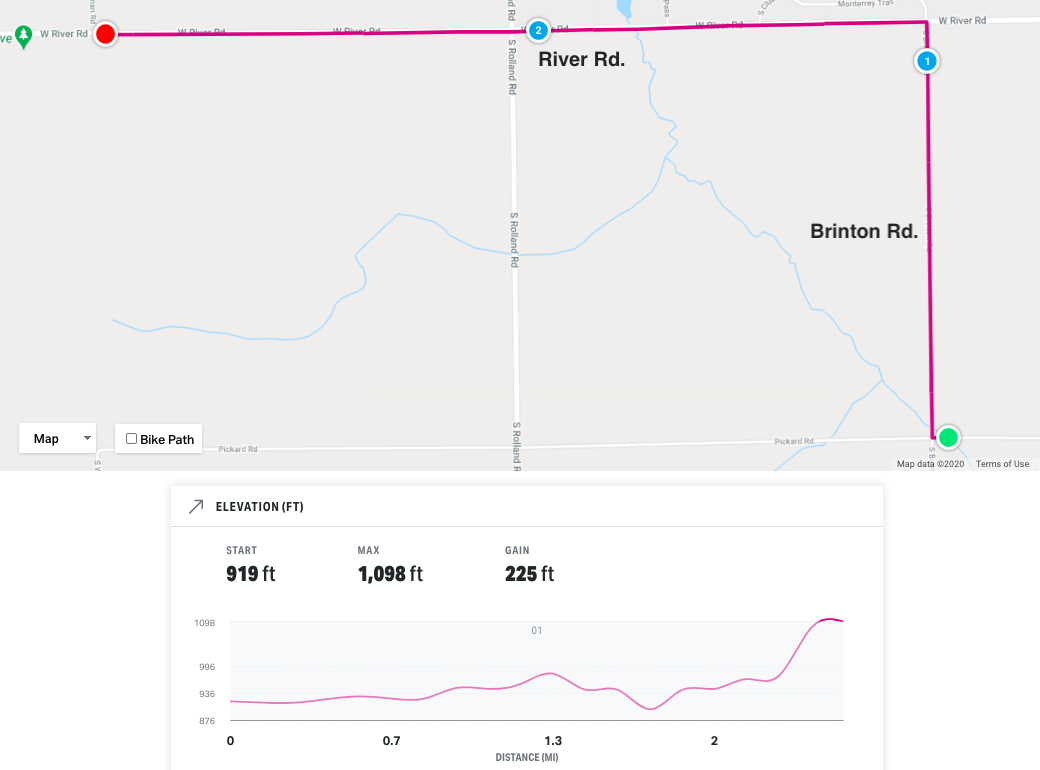 Frequently Asked Questions
How do I register?
The link to register for the Race to Summit can be found at gracemp.org/summit. 
Are you taking social distancing into account?
In this season when we are all doing our best to respond to the challenges presented to us by COVID-19, we certainly understand the importance of organizing this event in a way that ensures everyone's safety. We've decided to make this run a 'team relay' to minimize the number of runners in close proximity on the race course. This event will be held outdoors and all participants are encouraged to wear a face covering when they are not able to maintain social spacing from other participants and spectators.
 What are the different distances for team members to run?
The 35K (22 mile) distance has been divided into 5 individual legs that get progressively longer. The race starts with a 3 mile leg, followed by a 4 mile, a 5 mile, and a 6 mile leg. The final individual leg is also 3 miles. All team members will run the final mile of the course as a team as they 'Race to the Summit,' finishing at the top of Bundy Hill together. Course maps and descriptions of each leg of the race will be posted soon at gracemp.org/summit. 
Can I run the whole distance by myself? Can I run more than one leg of the relay?
Team members are welcome to run more than one leg of the team relay. A runner could register and run the full distance on their own, however please note the 4 hour cut off time explained a little further above. The course will closed after 4 hours, and each exchange zone will also be closed at staggered times throughout the morning in relation to the overall pacing for a 4 hours cut off. For teams not able to complete the full 35K distance in 4 hours (roughly 11 minute/mile pace), we encourage you to register and participate in the 1 Mile Run/Walk/Race to the Summit.
What if I want to run but I can't find a team to run with?
We have included an option on the registration form to sign-up as an individual if you would like to participate in the Team Relay but don't have a team. As race day gets closer, we'll do what we can to try to pair you up with a team if the opportunity is there. However, we can't make any promises! If we're not able to place you on a team with other runners for the Team Relay, we will register you for the 1 Mile Run/Walk/Race to the Summit.
Can we change team members if someone is not able to make it?
Yes. You can make additions/changes to your team as long as it is done before registration closes on Monday, October 5th. We'll reach out to Team Captains the week of 9/28 to make sure the information we have for each team is correct.
Will there be a fun run?
Individuals and families may also choose to participate in a 1 mile Run/Walk/Race to the Summit on race day. This will take place at approximately Noon on race day. We'll be posting more information soon with the full schedule for the morning.
Are their prizes/awards?
Prizes will be awarded to the top Mens, Womens, and Co-Ed team, as well as some additional prizes for teams who go above and beyond to make this a great morning for each other and for other teams.
Should our team color coordinate?
Absolutely. Teams are encouraged to show some team spirit and have some fun creating matching shirts, socks, headbands, or anything else that lets others know that you are in this together. Of course, this is not required…but we do encourage teams to look for creative ways to designate those who are on their team.
Will there be aid stations?
There will be a few aid stations positioned throughout the course, but team members may also plan to meet runners at different points during each running leg with water or gatorade.
How will our team get to designated exchange zones?
Teams will be responsible for getting all of their team members to each exchange zone. Teams are encouraged to designate a team vehicle a few drivers who can transport team members along the race course. For those Middle/High Schoolers who don't have anyone who can drive on their teams, they are encouraged to recruit a parent or another Team Driver who can transport them along the course on race day. We may also explore some options to shuttle teams to different points along the course if needed.
Is there a way to get specific information about race day logistics?
All teams will be required to have their Team Captain (or designee) attend a Zoom meeting the week of the race to ensure all teams are in the loop with some important race day details. The Team Captain will then be expected to communicate these details to their team members. We'll share more information about the timing of this meeting as race day gets closer.
Still have questions? E-mail ryan@gracemp.org.