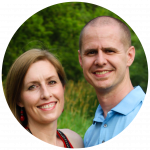 We were excited to hear that we, Grace Church, were going to host a drive-in livestream event at Mt. Pleasant Speedway for The National Day of Prayer (as broadcasted from Washington D.C.)! Sure, we'd still be in our cars (or in our case a mini-van with 4 kiddos in their P.J.'s), parked 6 feet apart and windows rolled up… but we would be TOGETHER and getting out of the house! Woo Hoo! It was a blessed time listening in on the radio and watching on the big screen and I'm sure my kids will remember it for years to come.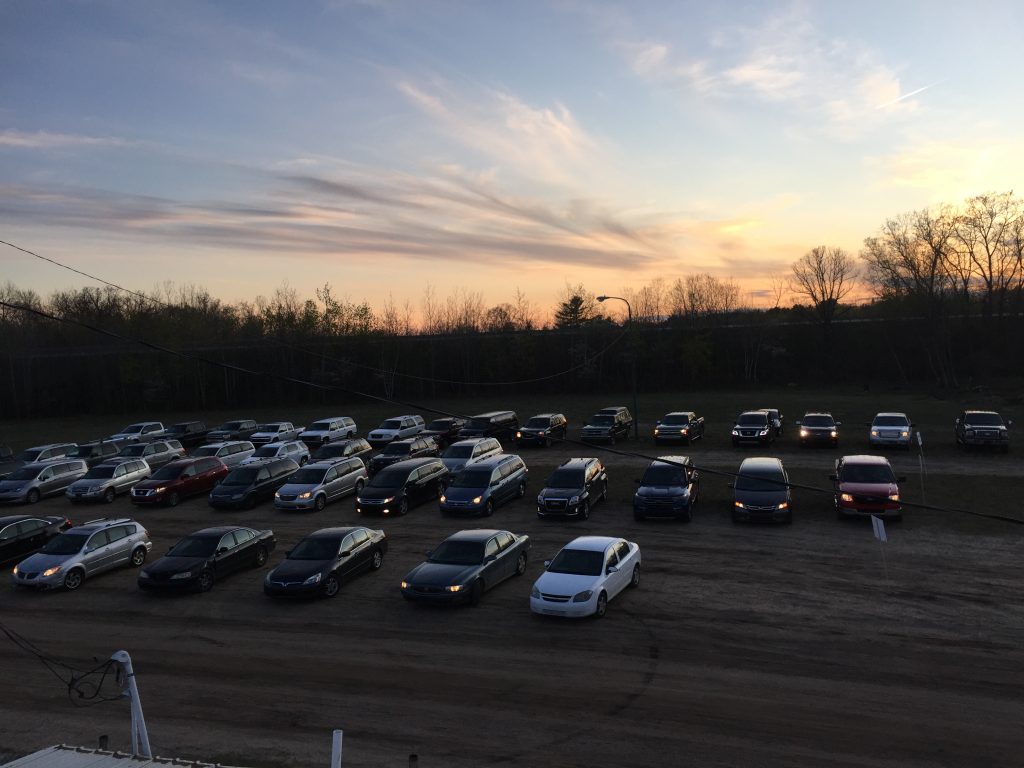 I (Beth) was blessed to be asked to help put out some signs all along Mission Street to get the word out about the event. I happily walked into different businesses (with my classy green face mask on and Dan as my valet) to ask if we could put a sign out on their property. We had many enthusiastic replies, and even the businesses that weren't allowed (because it required approval from their corporate offices) were very kind and open to personal invitations to come to the event! The most exciting for me was the opportunity to share the invite on a different platform…I was thinking about the large LED Billboards in front of McGuirk's on High Street and near Ric's on Mission. Would they consider putting the information on those signs that are visible to so many on a daily basis? I was so blessed when McGuirk's and their display company, Optic Edge, said "yes" they would put up the slide for the National Day of Prayer FOR FREE! A big shout out to them, and Heather, the woman I was in contact with, for their generosity and support! We were also given great favor and helpful professionalism as we pursued and secured a spot on the sign on Mission Street. Many thanks to Andrew and all of those at Lamar Advertising. I could sense God's blessing as the word was spread about event and the importance for prayer was lifted high in our community!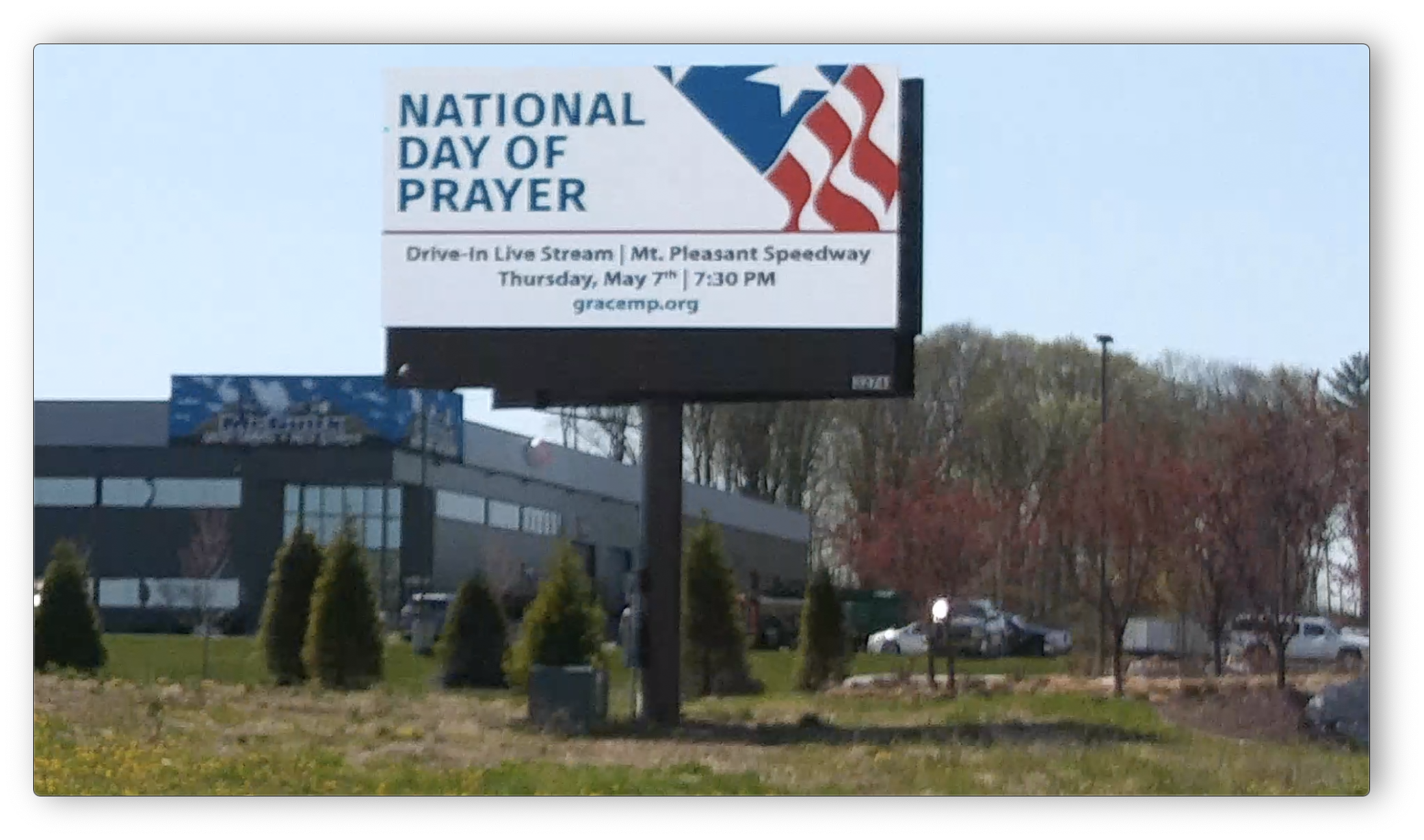 For my (Dan) part God's blessing continued to flow and his favor remained with us throughout the day of the event. Henry Kubin, from Kubin audio/visual and my friend and entertainment boss at the Casino, donated some hardware to get the screen frame built. The setup crew arrived at the Mt. Pleasant Speedway to blue skies and a brisk breeze. And of course, there was Mario (his mother Betty and Father purchased the Speedway some 30 yrs. ago), spreading water on the drive so our vehicles and LED screen didn't get too dusty…what a guy! We jumped out and got to work and other than the inevitable trip to Menards, the setup went off better than could be expected. Mario was there throughout the morning and eager to help in any way he could. As we left for lunch, the stage was set for the screen to be assembled 20+ feet in the air.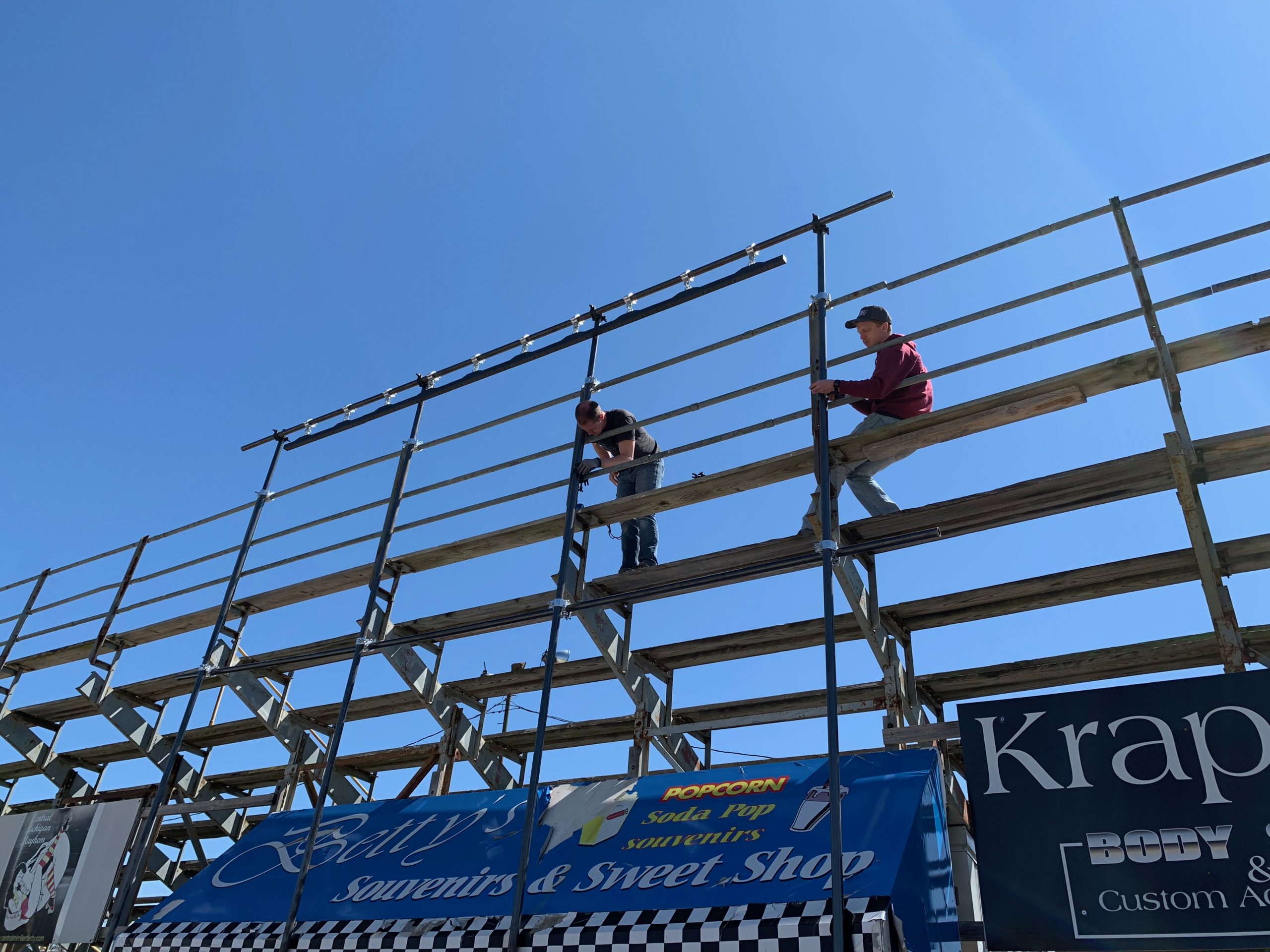 After a brief bite to eat, the next crew of roughly 10 fresh volunteers showed up to our building on Mission St. (yes…masked and ambitious) to disassemble the LED screen and move it out to the Speedway. We loaded out in short order and made it out to the Speedway by roughly 2pm (while the Red Cross Blood drive was taking place in another part of our building)! The Lord continued to bless us with beautiful weather and we split up into teams of screen builders, those connecting the cables and those who actually know how all of this production stuff works. The 60-panel LED screen began to take shape and I for one was grateful for those "nimble climbing warriors" on our crew that are half my age and can still fit into those tight spaces without paying for it physically for the next week. J The grandstands at the Speedway were a life-saver and multiple times throughout the day, various members of our motley crew expressed their gratefulness to be working from them rather than a 20' ladder. By 5:30 the screen was assembled and tested and ready for whatever the Lord might have that night.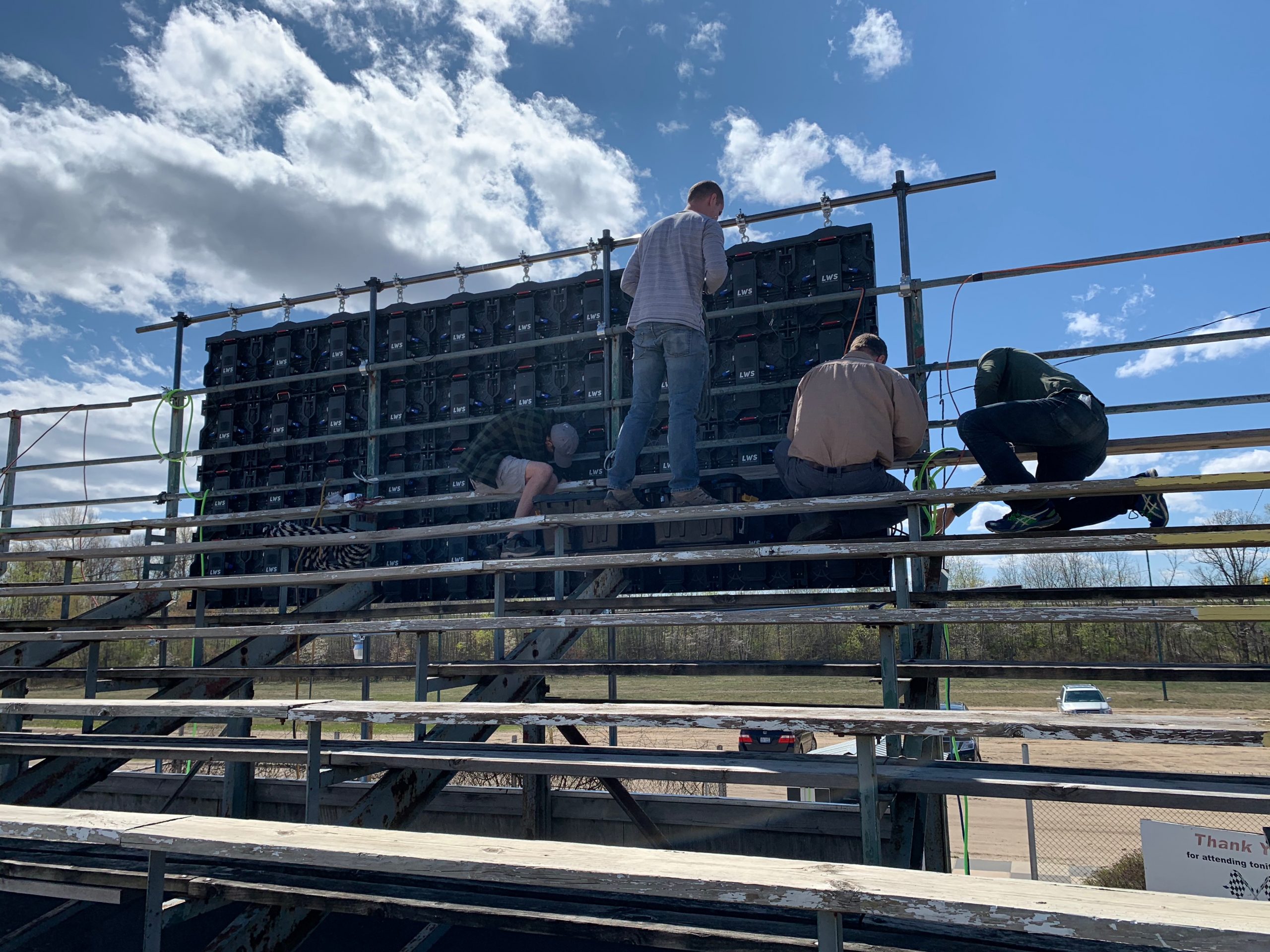 At this point I got to roll home, get a much-needed shower and come back at 7:30 with my family. I was blessed by the organization (not to mention the attire) of the those directing parking and encouraged to see many from our Grace Church family as well as many others from the larger family of faith in this region. As the livestream began, the setting sun was a bit bright. We prayed as a family that God would "speed up" the sun's setting, just like he stopped the sun in the days of Joshua, or bring a cloud to block it. Moments later, I notice the screen looked quite a bit better as one of my sons exclaimed, "Dad, there's the cloud you prayed for." Sure enough, for the remaining 10 min. before sunset, a cloud rested in front of the sun…AMAZING!
God was good, the weather was perfect and as we watched the live-stream throughout the evening, it was incredible to know that we were joining with tens-of-thousands from across the nation to pray for our churches, leaders, country and world. The theme this year was "pray God's glory throughout the world" and it was humbling to know that we were playing a small part in seeing God's glory come to Central Michigan.
As we cleaned up that night, and I arrived home a bit later than my normal bedtime, I couldn't help but think to myself, "There's nothing else that I would rather do with my day." From start to finish, the National Day of Prayer was a blessing and filled with the Lord's strength and favor. Including the livestream provided by our local pastors earlier in the evening. I firmly believe that he WAS glorified throughout the world and perhaps a little more personally, in Central Michigan. Praise Him!